Getting all the seedlings going for the garden has me looking forward to eating fresh home grown vegetables again. Do you save your veggie scraps in the kitchen?
If you want a delicious base for recipes and a way to use your garden veggie scraps, here is a tip for you...
Every time you have a cut end or peel or a veggie about to go bad in the fridge, throw it in a bag in the freezer. When you have a bag full of scraps you are ready to make vegetable broth.
The classic veggies to add are onion, celery, carrots and garlic, but you can get creative and add peppers, zucchini, squash, leek tops, okra… really most vegetables can be used.
Mushrooms can add a nice savory flavor.
Omit potatoes because the high starch can give it a gummy texture.
Veggies like brussel sprouts, broccoli and cabbage can give it a bitter taste, although I add 1-2 broccoli stems from time to time and it turns out fine.
One secret to making really tasty vegetable broth is to add tomato paste to give it that extra flavor that might be missing without the bones in bone broth. (I didn't have tomato paste so I threw in 4 small fresh tomatoes and that worked well too.)
Herbs to add are bay leaves, turmeric, parsley, oregano, rosemary, thyme…. If you don't have fresh you can substitute dried.
If this is going to be a base to a soup, add salt and pepper to flavor.
If using the broth to add to recipes like casseroles without changing their seasoning, you can omit salt and pepper.
Here is a sample recipe for vegetable broth.
Note, if you have a lot of veggie scraps, you can reduce the fresh vegetables, but if you don't have scraps saved right now, the rest of the recipe will make a tasty broth.
~Sauteing the onions and celery at the beginning can reduce chances of a bitter flavor from boiling them raw.
~Since the broth will be strained, vegetables can be in larger chunks-no need to chop fine.
vegetable broth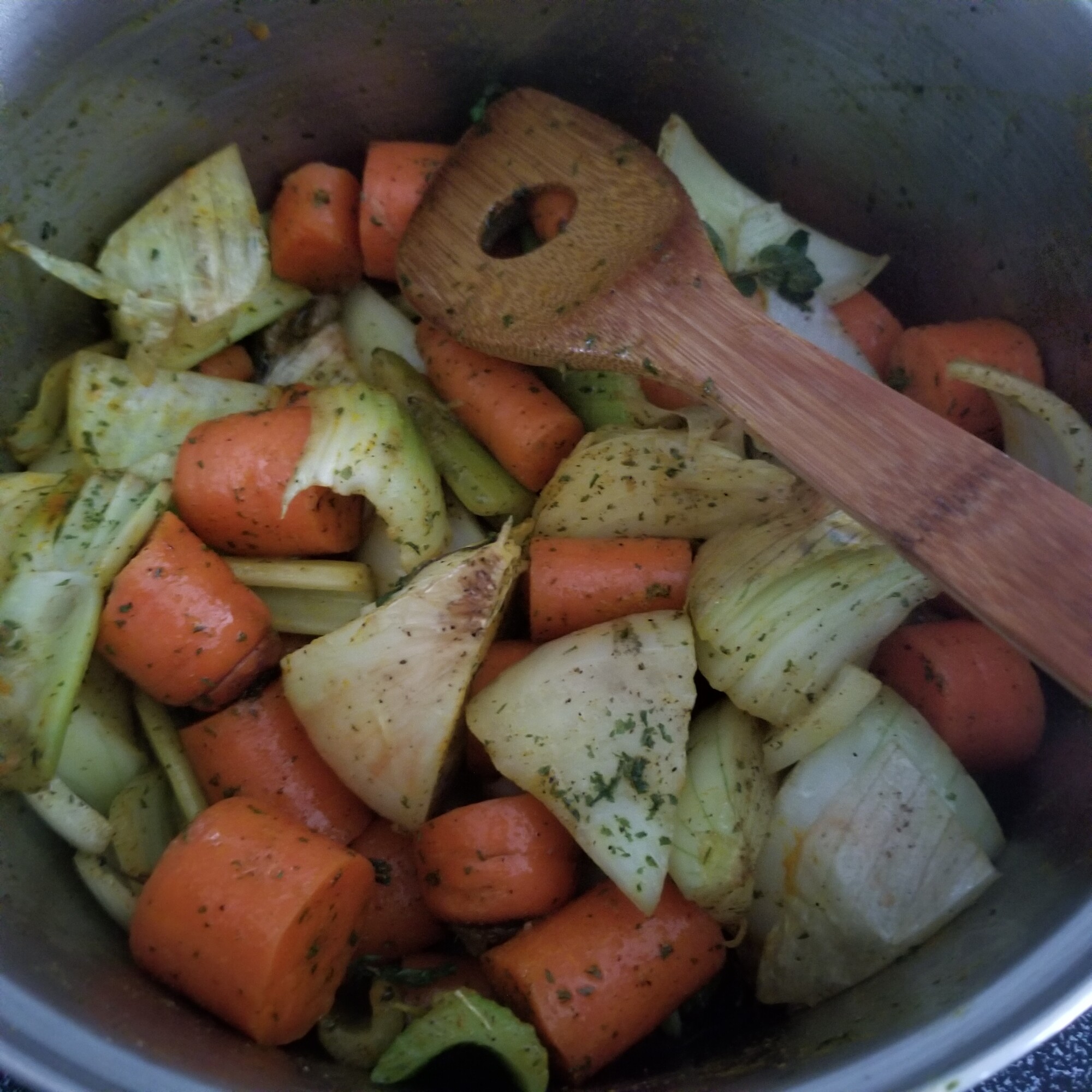 Ingredients
1 tablespoon avocado oil or other high-heat oil
1 large onion chopped (with skins)
4 carrots chopped (with skins)
1 green bell pepper chopped
3 stalks celery chopped
5 cloves garlic chopped (with skins)
2 teaspoons sea salt divided
2 teaspoons ground black pepper divided
2 sprigs fresh rosemary
1/2 cup fresh parsley
3 sprigs fresh thyme
1 teaspoon ground turmeric
10 to 11 cups pure water
2 tablespoons tomato paste
2 bay leaves
2 to 3 cups vegetable scraps any variety (thoroughly washed, optional)
Instructions
1. Heat oil on medium high in a large stock pot.
2. Add chopped onion, carrot, bell pepper, and celery.
3. Sprinkle with 1 teaspoon each sea salt and pepper.
4. Add rosemary, parsley, thyme, and turmeric.
5. Stir and saute for 5 minutes, adding garlic during the last minute of cooking time.
6. To pot, add filtered water, bay leaves, tomato paste, and additional vegetable scraps (if using).
7. Stir well and bring to a boil.
8. Reduce heat to medium low, cover with a lid, and allow broth to simmer for a minimum of 30 minutes, up to 1 hour.
9. Strain broth through a large strainer into another pot.
10. Season with additional salt and pepper, to taste.
Pour into jars for storage.
Broth may be kept in the fridge up to 5 days, and can be frozen for up to 6 months.