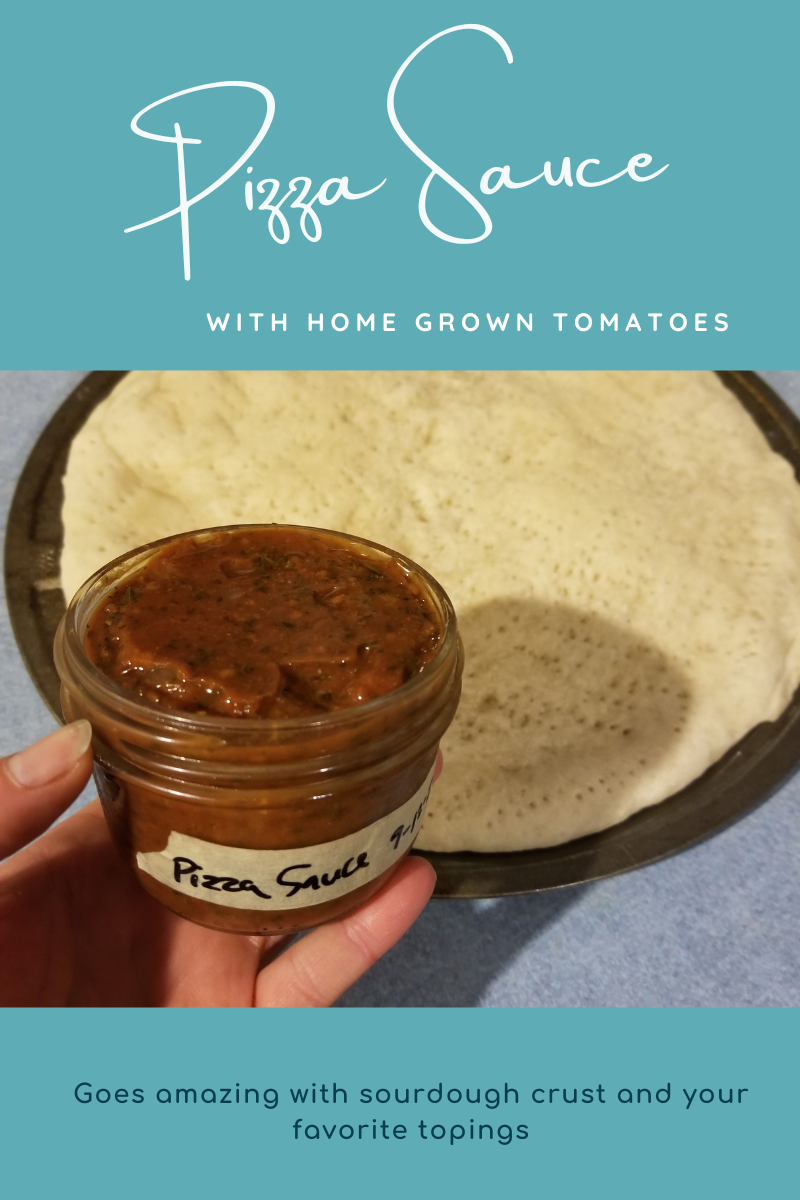 Do you grow tomatoes in your garden? Does you or your family like pizza? This pizza sauce was amazing already when I made it from purchased sauce, but it got even better when I made it from fresh picked garden tomatoes.
Along with many people I started a sourdough starter in 2020... then I had to find ways to use it, and sourdough pizza crust was one option I found. Then I needed pizza sauce....
I found this recipe and made it with store bought sauce and paste and it was delicious. But then I needed more one day and I had made some tomato sauce from my garden tomatoes and the pizza sauce got even better when I used my own sauce and paste. This is how I made the sauce and paste. Pizza sauce recipe below.
Tomato sauce from fresh tomatoes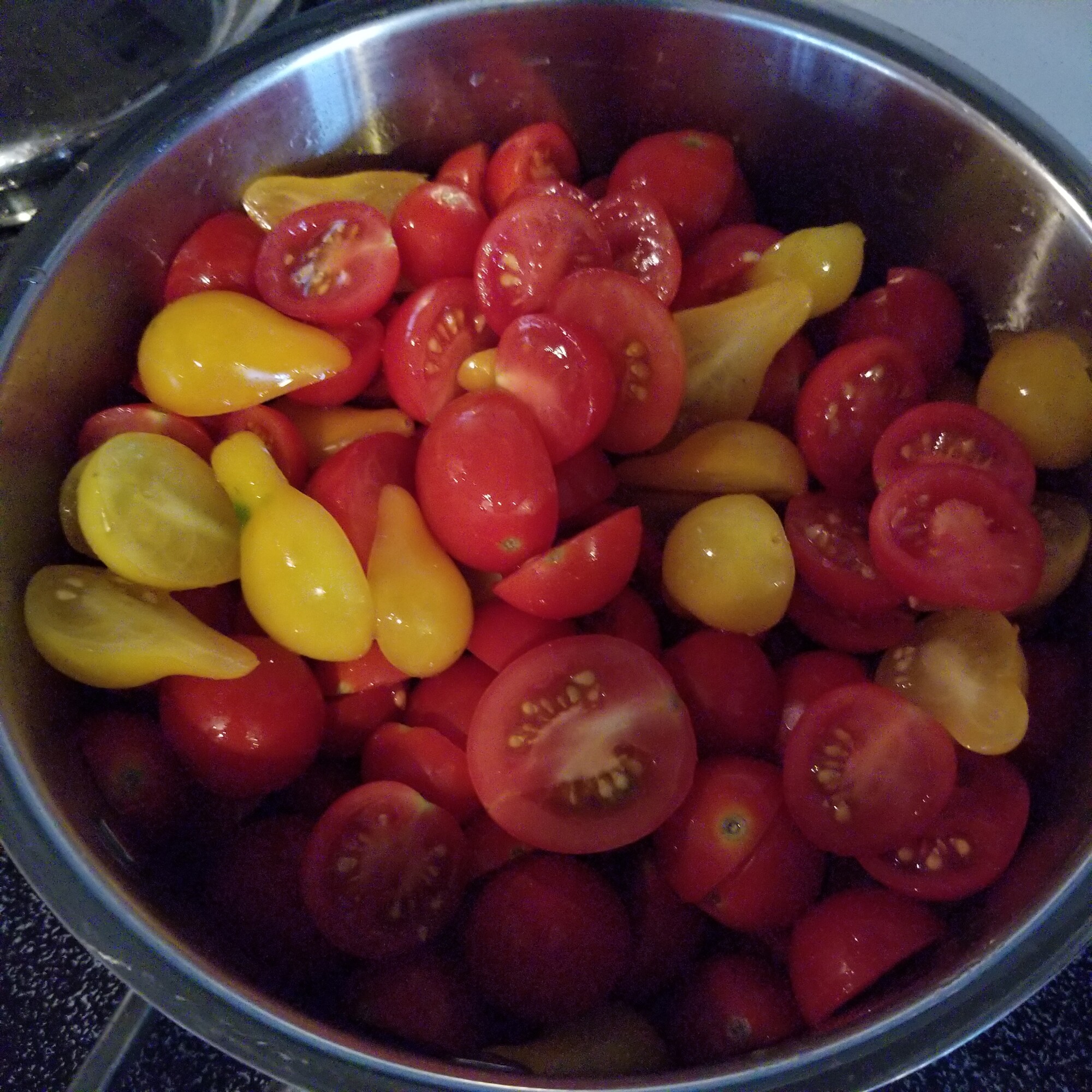 Start with pieces of fresh tomatoes. I used small snack size in this batch (combination of yellow pear and Principe Borghese). You can use cherry, yellow pear, principe borghese, roma, or san marzano. You might be able to use a thick beefsteak, but many of the slicer varieties will be juicer and reduce your finished product as the water has to cook off. If using larger tomatoes, rough chop about the size of halved cherry size for measurement. I had 6 cups of halved cherry size and netted about 1.5 cups of tomato sauce.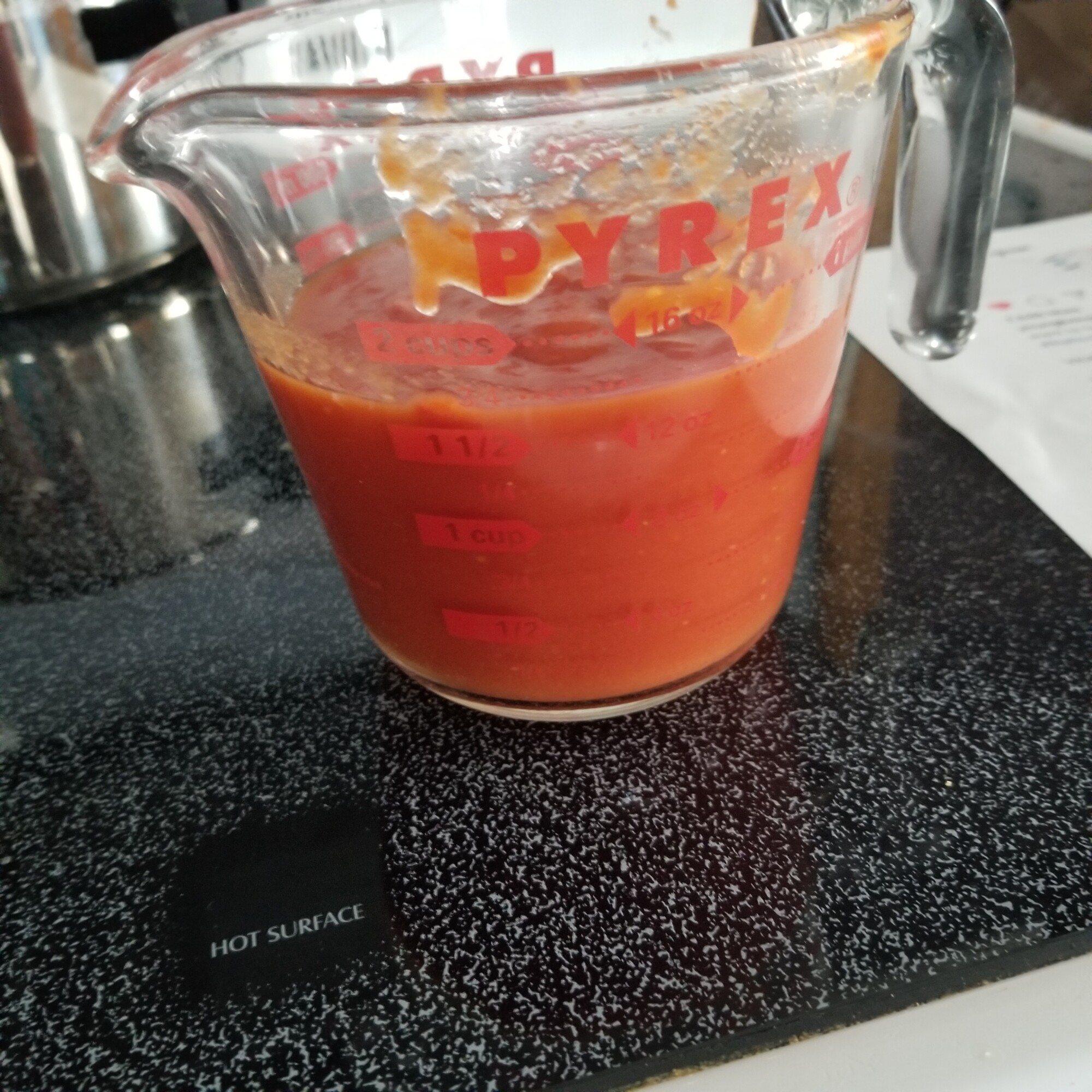 For the 15 oz of sauce in the recipe you will need about 8 cups of cherry size pieces and another 12 cups of cherry size pieces or 3 pounds for the tomato paste.
Put the cut pieces of tomatoes in a large pot on the stove over low to medium heat to start. stir every 5 minutes at first till it starts to simmer, then you can turn up the heat if you want it to cook faster. stir occasionally to keep bottom from burning and simmer till the skins fall off the tomatoes and consistency is more mushy watery than pieces and chunks.
Remove from heat and allow to cool some.
Run the cooled tomatoes through a food mill to remove skins and seeds.
Replace the strained tomatoes in the pot on the stove and bring back to a simmer.
Simmer the sauce until reduced by half or the consistency of sauce you prefer. Stir in 1 teaspoon of sea salt (I use pink himalayan) per 2 cups of sauce.
Divide for the paste. Measure the portion to stay as sauce (for the pizza sauce that's 15 oz or just shy of 2 cups). Put the rest back on the stove to simmer longer.
Tomato Paste
The sauce that is becoming paste will need to be reduced even more. you can continue to simmer down on the stove, or spread on a rimmed baking sheet and bake at 350F until brick red and shiny, or once it's reduced down so as to not be runny (think smoothie) it can be dehydrated in a dehydrator like fruit leather.
For this pizza sauce recipe you only need it to be a thick paste consistency. Measure out your 6 oz. Any remaining paste can be stored in the freezer, canned in hot water bath, or dehydrated fully to fruit leather and stored in air tight container in the pantry for up to 6 months.
Pizza Sauce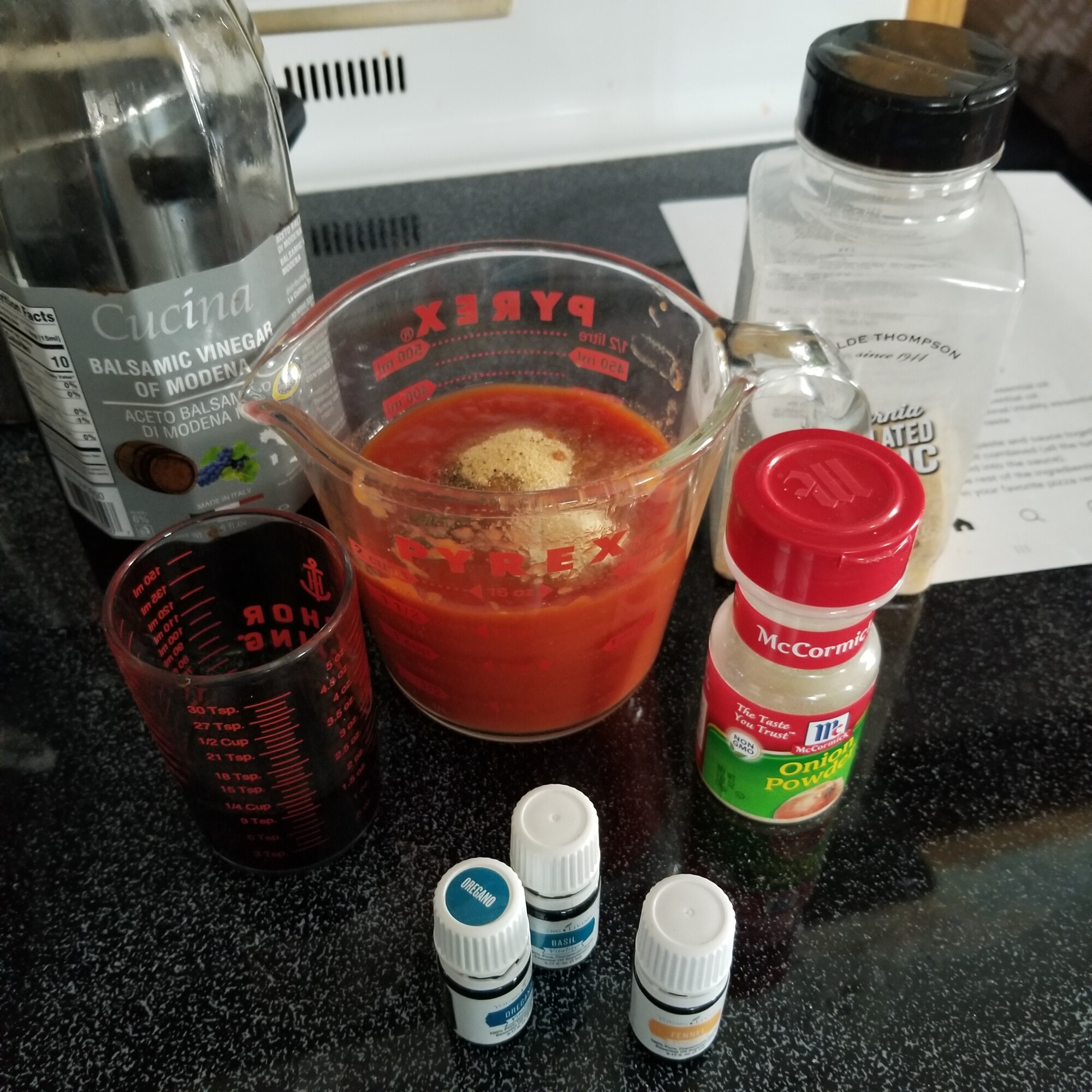 Ingredients
6 ounces tomato paste
15 ounces tomato sauce
1/4 cup of balsamic vinegar
1/2 teaspoon onion powder
1/2 teaspoon garlic powder
1 drop Oregano Vitality essential oil
1 drop Basil Vitality essential oil
toothpick swirl of Fennel Vitality oil
salt and pepper to taste
Instructions
Mix tomato paste and sauce in a medium bowl until well combined.
Add the rest of the ingredients.
Use in your favorite pizza recipe.
Store in air tight container in the fridge for up to 6 months. Or freeze for up to 1 year.
* when using essential oils in food, only use oils labeled for internal use. See why I use Vitality oils.
What are you favorite pizza toppings?