Do you love creamy soup?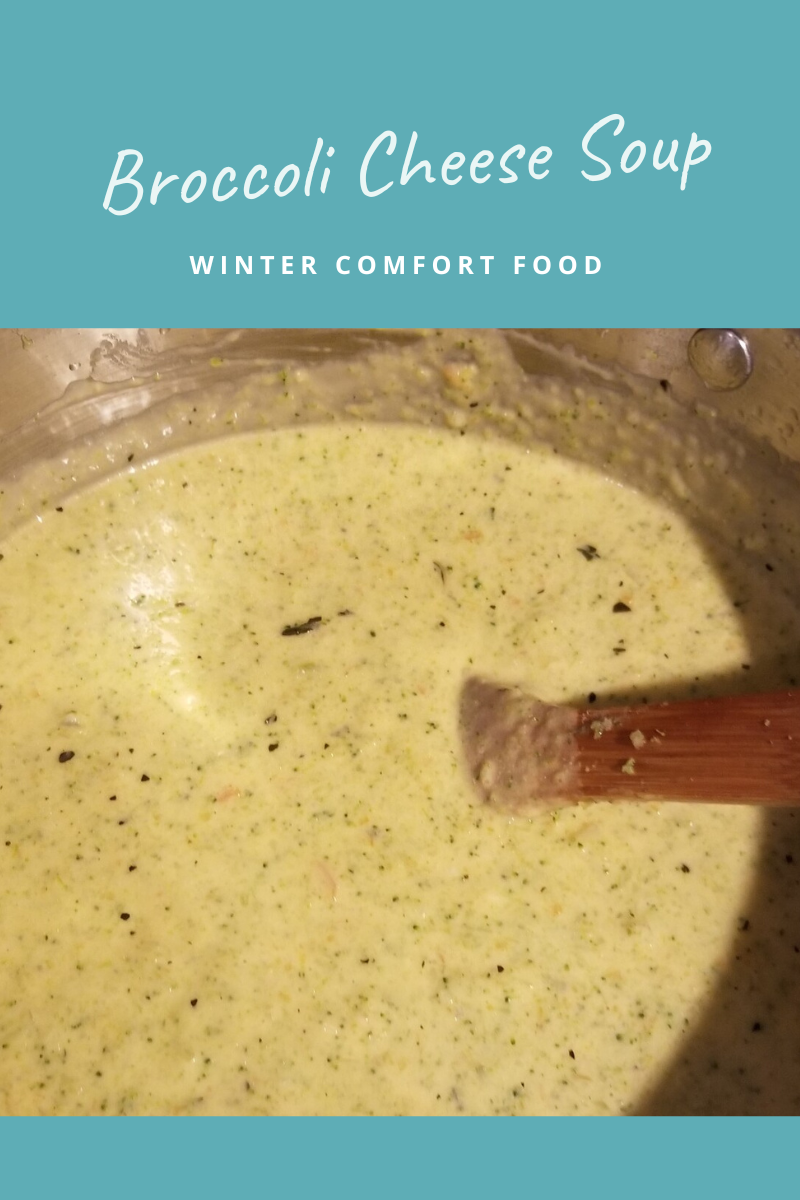 I made up this recipe myself based on a cream of vegetable and cheese soup recipes . I've refined as I went and it's amazing and comforting on a cold winter day but great anytime.
Even the picky eaters in my family like it.
There is a bit of prep involved but it's totally worth it and this soup freezes well so you can make this in a large batch and freeze some later, which is what I do.
This recipe makes about 10-11 cups of soup.


Ingredients
2 large bunches of broccoli - (if getting a conventional head this is 2 large heads about 8 inches diameter. if you are getting organic heads, they usually come in a bundle of 2 medium to small heads banded together. so you will need 2 bundles.)
2 stalks of celery
2-3 large carrots
1 large vidalia onion
2 cloves garlic, minced
2.5 cups of homemade chicken broth, divided (make your own broth here)
3 cups of milk, I use whole milk for a creamier soup
6 Tablespoons butter
6 tablespoons flour
2 cups of shredded cheddar cheese, about 1/2 pound. (
buy in block and shred yourself as it will melt in the soup better than pre-packaged shredded cheese.
)
2 cups of shredded american cheese (
lower melting point for creamier soup but you can use all cheddar or substitute cream cheese if desired
)
salt and pepper to taste
1/2 Tablespoon basil ground
1/2 teaspoon thyme
directions
1. Rough chop broccoli heads, carrots and celery into pieces, doesn't need to be really small as we will chop more after steaming. Separate 1/2 cup of broth. Steam broccoli florets, simmer carrot chunks and celery in water till soft.
2. Dice onion and mince garlic while veggies are cooking. alternatively you can use the food processor if you want the onion to be smaller pieces. shred cheese onto a plate.
3. Transfer cooked vegetables to food processor in small batches and process to minced size. use reserved broth to aid in processing by drizzling a small amount over the veggie pieces. set aside in separate bowl.
4. Once the veggies are run through the food processor, melt butter in large soup pot and saute onions for a few minutes until starting to soften. add garlic, thyme and basil and stir. add flour and keep mixing till blended. let cook several minutes while stirring to cook the flour into the butter.
5. Add milk and stir well or whisk to remove lumps. keep stirring occasionally to keep from sticking on the bottom as the roux starts to thicken.
6. Once it's getting thick add the remaining 2 cups chicken broth and stir in.
7. when the broth has warmed through, start adding shredded cheese a handful at a time and stirring in. let it melt before adding another handful. once all cheese has melted in stir for a couple minutes more and then slowly mix in the broccoli carrots, and celery.
8. once all veggies are mixed in, add 3/4 teaspoon of salt and 1/4 teaspoon of pepper. mix well and taste. add more salt and pepper to taste.
Let me know if you make the recipe by leaving a comment below.