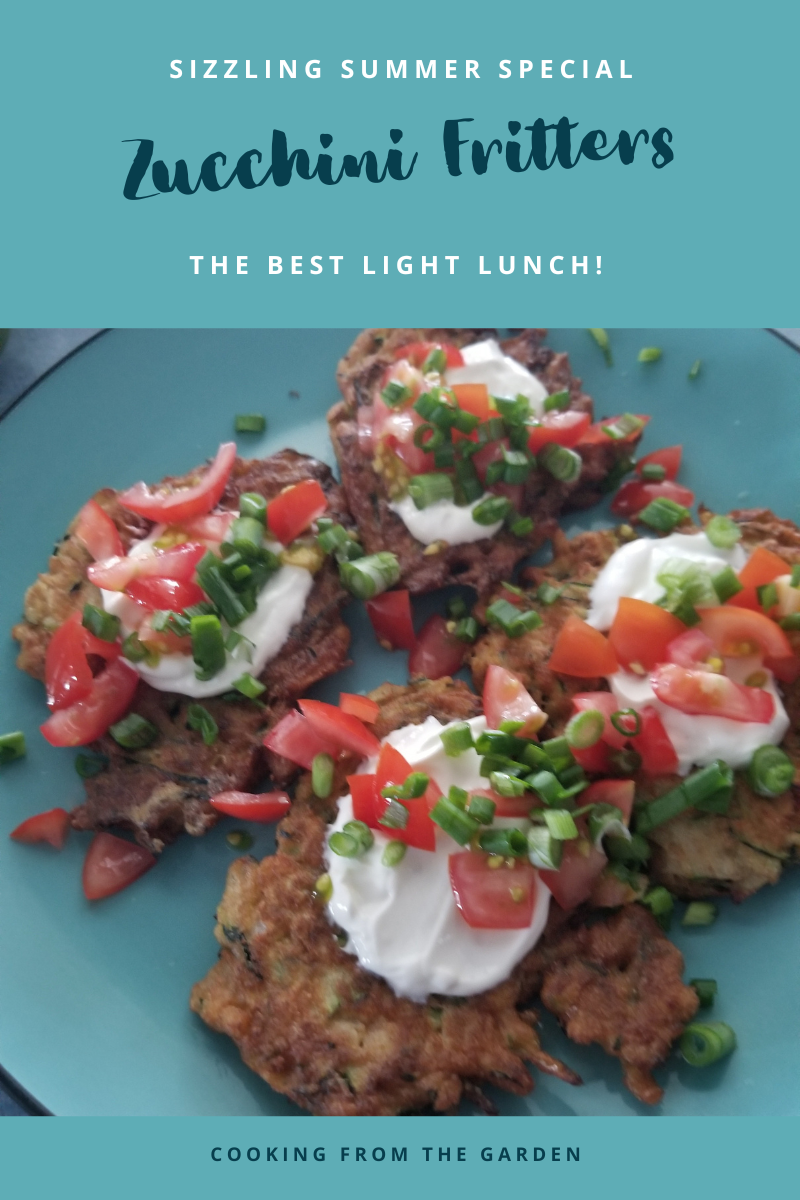 I love Zucchini fritters!
It's that time of year again. Zucchini is coming out of the garden and everyone is looking for great recipes to use this wonderful veggie.
Updated with new information.
Since I found the original recipe below, zucchini has become my favorite summer veggie. I even shred and freeze extra zucchini so I can make these during the winter. I've discovered that the freezing process does change the consistency of the shredded zucchini making it a little more limp and watery with less bulk, so you don't get as much volume in your batter. You can use less egg and flour and still get great patties. Also, growing conditions for fresh zucchini can effect the water content of the zucchini as well as seed cavity.
(I just cooked up a 9inch zucchini and had to use 3 eggs and scoop the seeds from the center because I'm experiencing a drought in my yard and the zucchini grew drier and thicker. Still excellent fritters and netted me 10 patties which will make 3 lunches for me.)
Now the
recipe listed below
that I found online is a very large batch. And unless you have several zucchini and a large family to feed, it seems like a lot. Especially when measuring shredded zucchini. Plus, sometimes you just have a small zucchini and want a quick lunch.
So
I have developed a cheat method
that doesn't require measuring or a specific amount of zucchini. If you have a small zucchini or a medium one this method works. (If you have an over grown large one, cut lengthwise and scoop the seeds out of the center before shredding)

(I measured at first to get an idea of the consistency, so feel free to follow the recipe at first or if recipes work better for you.)
First I shred my zucchini in a colander in the sink or over a bowl. Sprinkle well with salt (not heavy, but not light) and let it sit as the salt will help pull water out of the zucchini.
---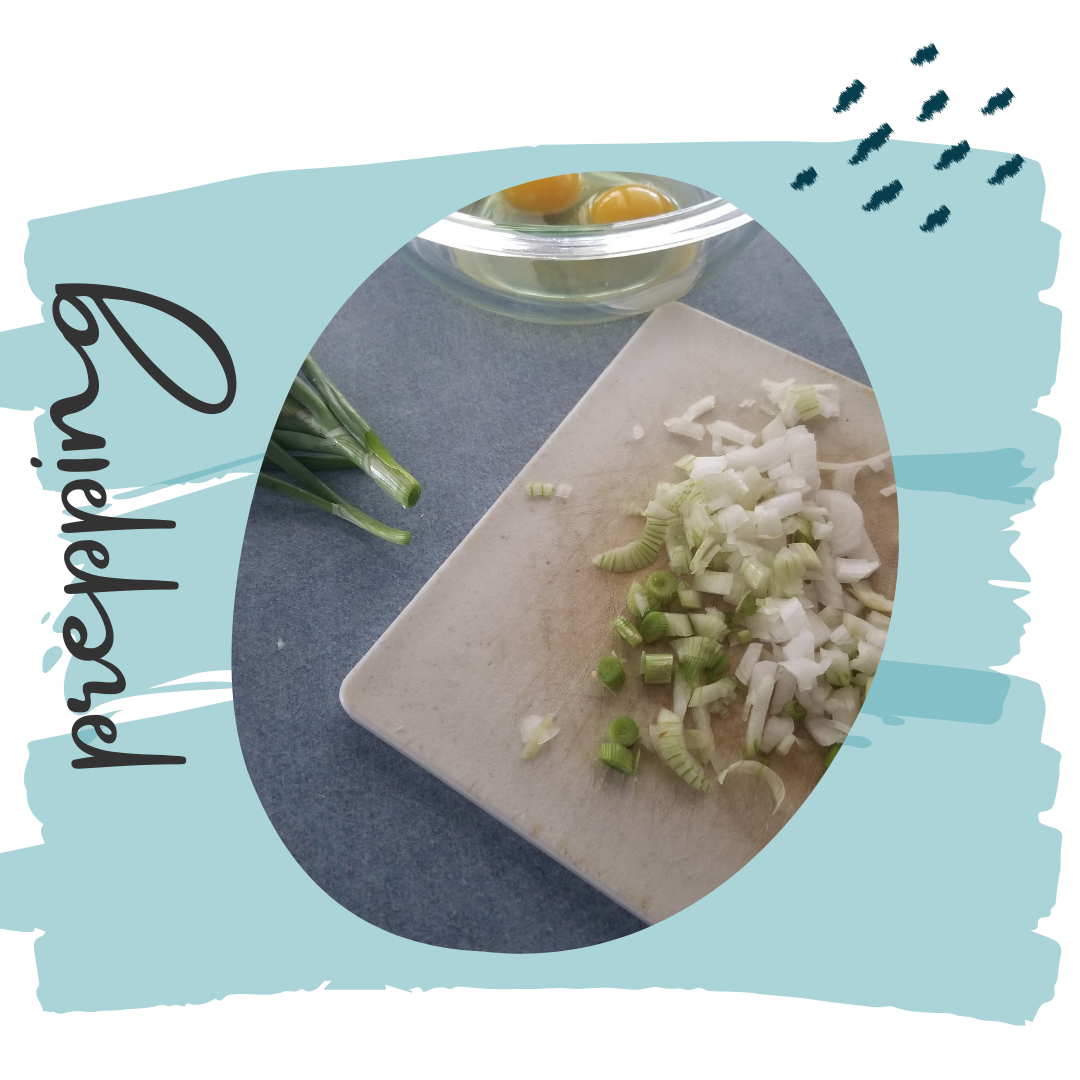 Based on the size of the zucchini, I crack an egg(s) in a bowl. Small zucchini [6-8 inches long and ~ 2in diameter] gets 1 egg, medium zucchini [8-10 inches long, but not fat enough to have a large seed cavity inside] get 2 eggs.

Then I chop a small onion or a few shallots or some green onions. This is based on your taste. The fritters do need a little onion flavor in there but you don't want too many or they will keep falling out of the patties while cooking. Add the onion to the bowl with the egg.
---
Add enough oil (High heat oil like avocado or coconut) to cover the bottom of a medium skillet on the stove and heat to medium high (on my electric stove that has 1-10 I usually cook between 5/6). You want the oil hot before cooking to prevent sticking and get a nice browning. So the batter should sizzle when you place a scoop in the pan.
---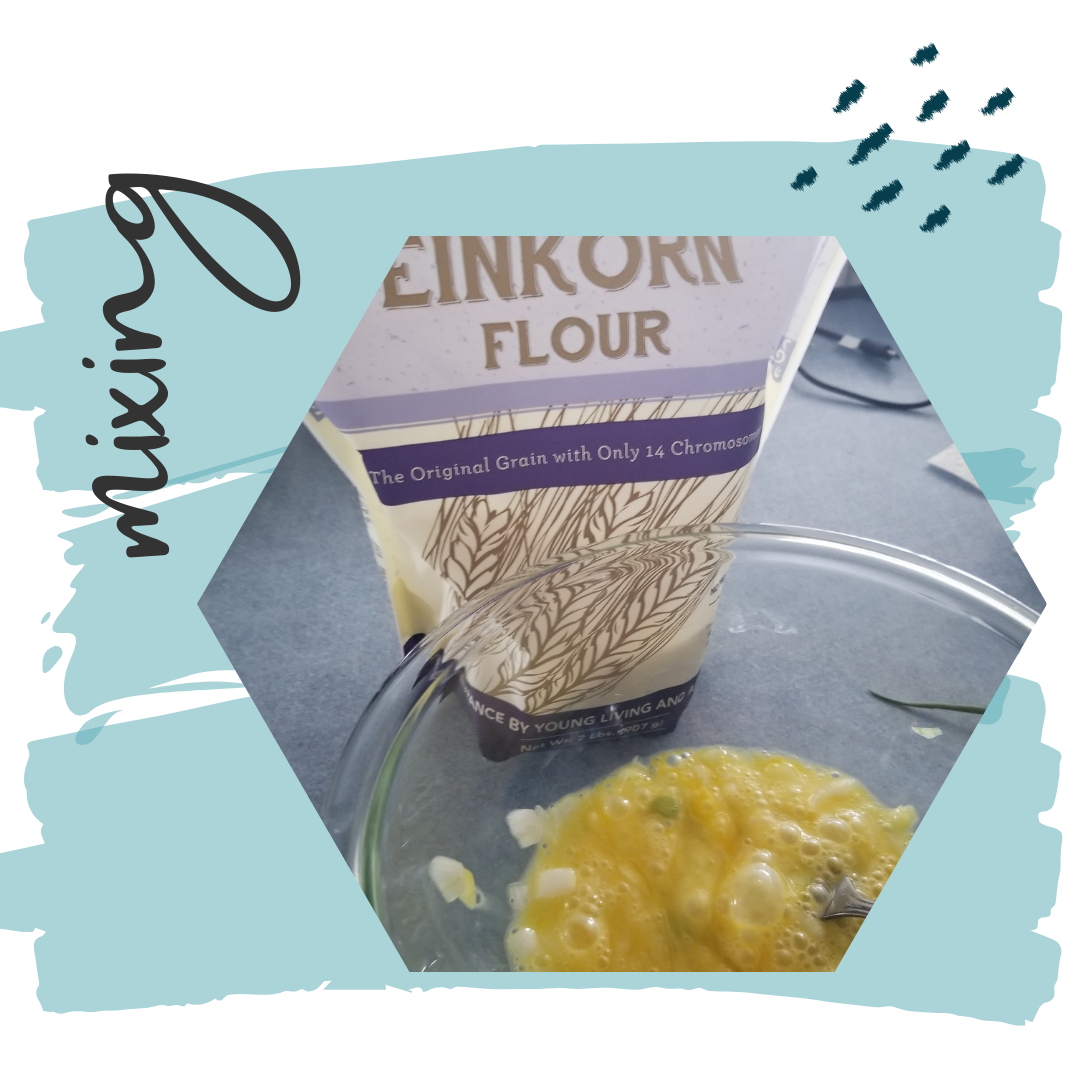 Next I squeeze a handful at a time of the zucchini shred to get as much water out as possible and add to the bowl with the egg and onion. Mix lightly with a fork.
Then I add flour a small amount (1-2 Tablespoons) at a time (I usually use a ¼ cup measuring cup as a scoop but not really to measure) until the mixture is the consistency of thick pancake batter. You want it still
liquid-y
enough to form a patty without crumbling.
I love using einkorn flour in this recipe. Being an ancient grain version of wheat it has a better health/nutrient profile and since it's more like a whole wheat flour - dry and thirsty- it absorbs extra moisture from the zucchini making the patties stay together better.

(

Einkorn flour I use

.)
As you mix, take a 30 sec pause every so often to let the flour absorb moisture and see if you need to add more.
---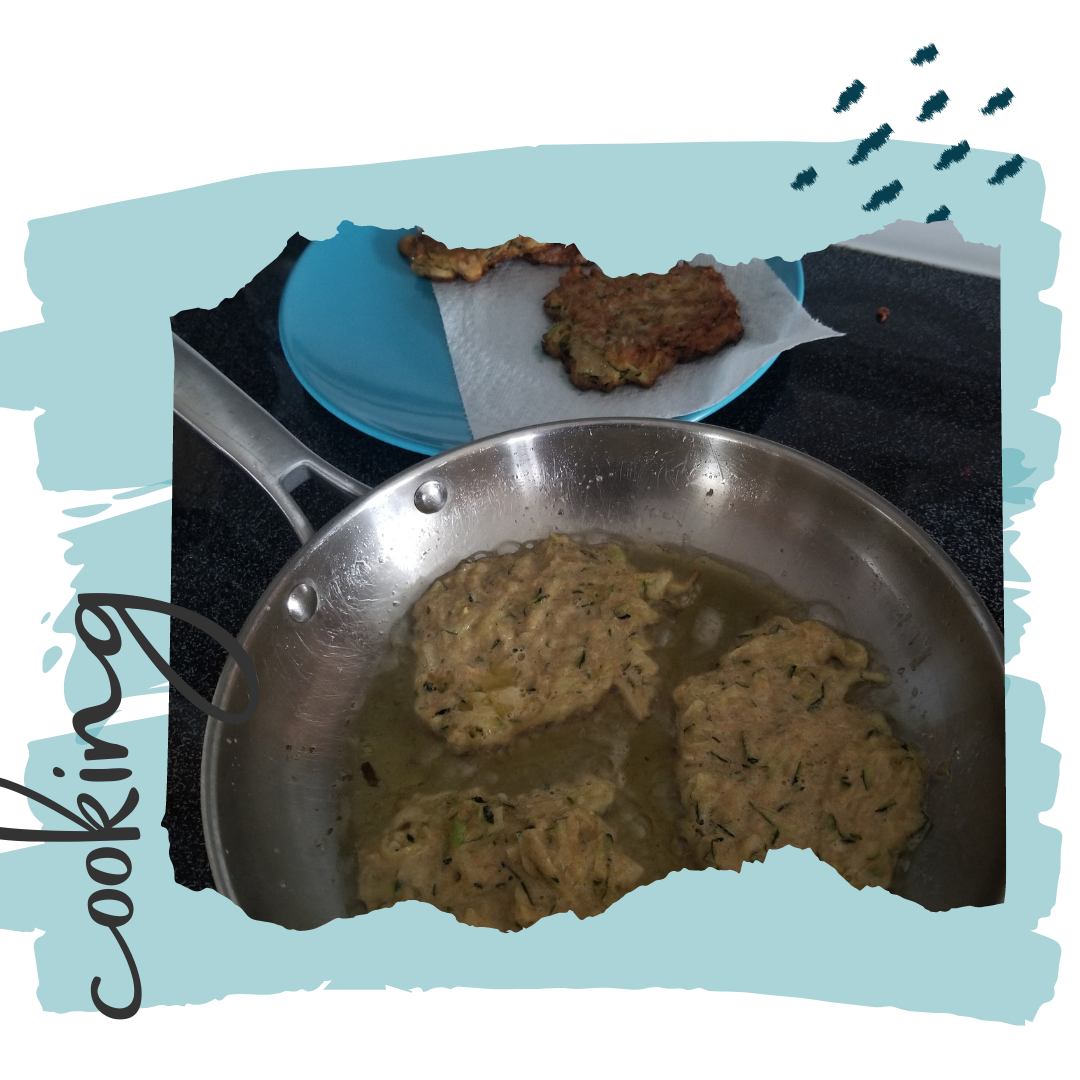 Once you have your batter mixed, the oil should be hot. Using a small scoop (I keep using my ¼ measuring cup), spoon a small amount of the mixture on 1 side of the skillet and use the back of the scoop to flatten out into a patty. Repeat to fill the skillet. Let it cook for a few minutes till it's golden brown on the bottom. Then flip and cook the other side.
---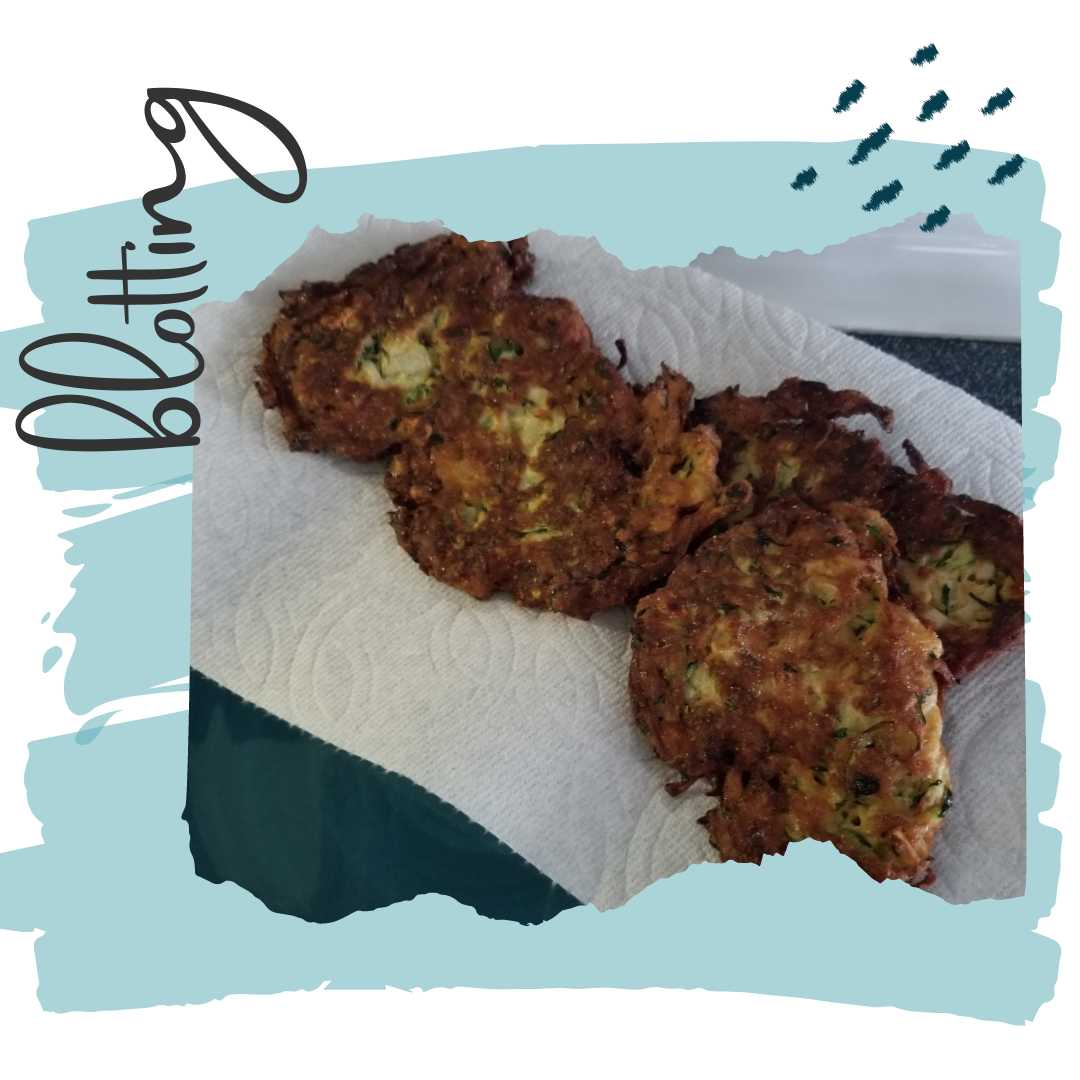 When the 2nd side is done, remove to a paper towel to blot excess oil and sprinkle with salt (optional).
Repeat steps 5 & 6 until all batter is used. Adding more oil between pan-fulls as needed.
---
Step 7
Serve topped with sour cream (optional), green onion tops, diced tomatoes, or whatever sounds good to you.
---
7 ingredient zucchini fritters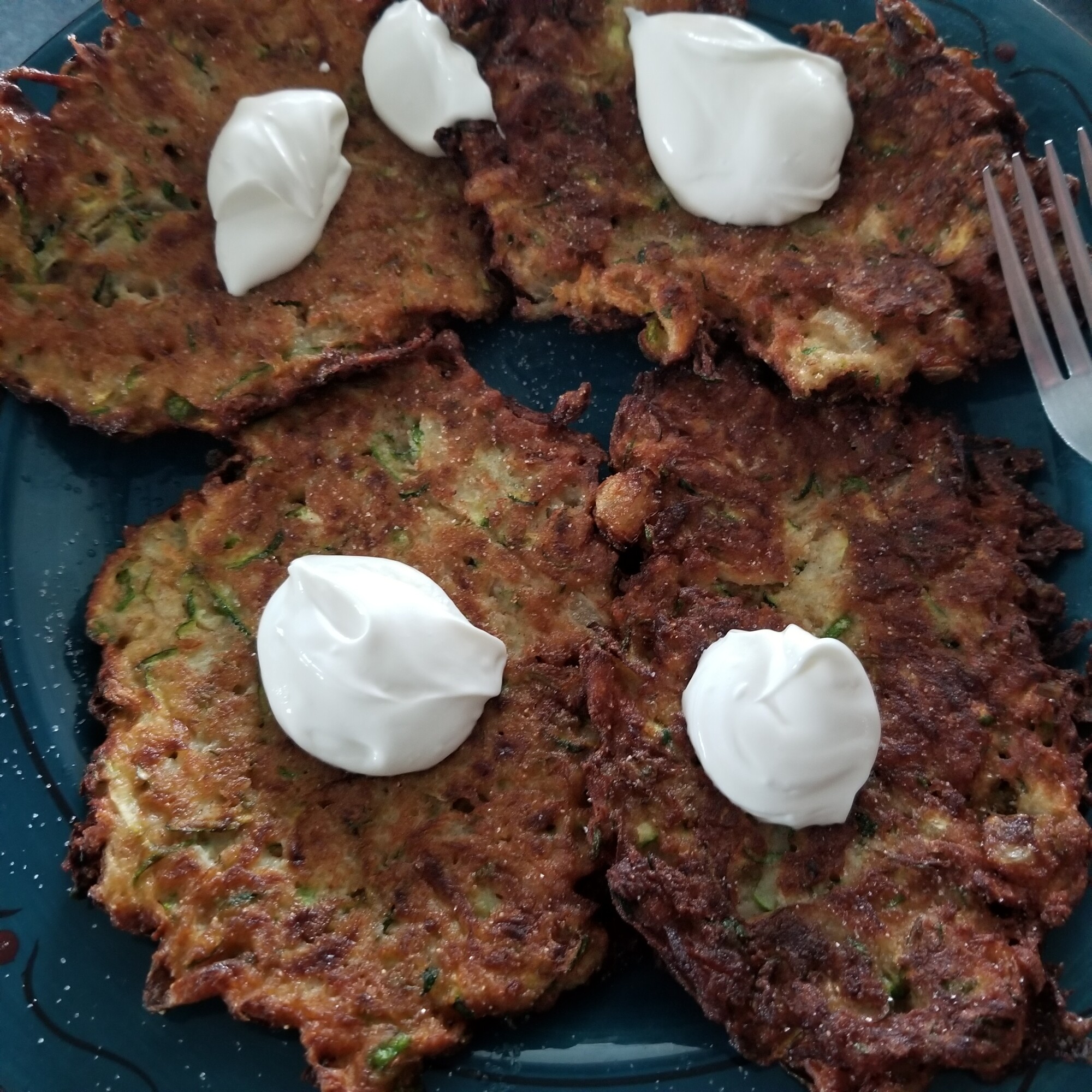 Ingredients
5.5 cups of shredded and drained zucchini

1 c flour

3 eggs

½ cup diced onion or scallions

1/3 teaspoon salt
High heat cooking oil like avocado or coconut oil
Optional: sour cream for topping
Instructions
1. Start by shredding the zucchini with a coarse cheese grater. I like to shred right into a colander in the sink. Then sprinkle with the salt and let drain.
The salt helps pull some of the water out of the zucchini.

2. While that's draining, add enough oil to a skillet to cover the bottom and get it warming up. Then, squeeze as much water as possible out of the zucchini and measure as you add it to the bowl.

3. Add remaining ingredients to the bowl and mix with a fork.

4. Once the oil is hot, Using a large spoon or 1/8 cup measuring cup, add small patties to the skillet. Press out flat with the back of the spoon and let cook till the underside is lightly browned. Flip and cook the other side.
5. Remove to a paper towel. Cook remaining batter.

6. Sprinkle with additional salt if desired, top with sour cream (optional) serve immediately.