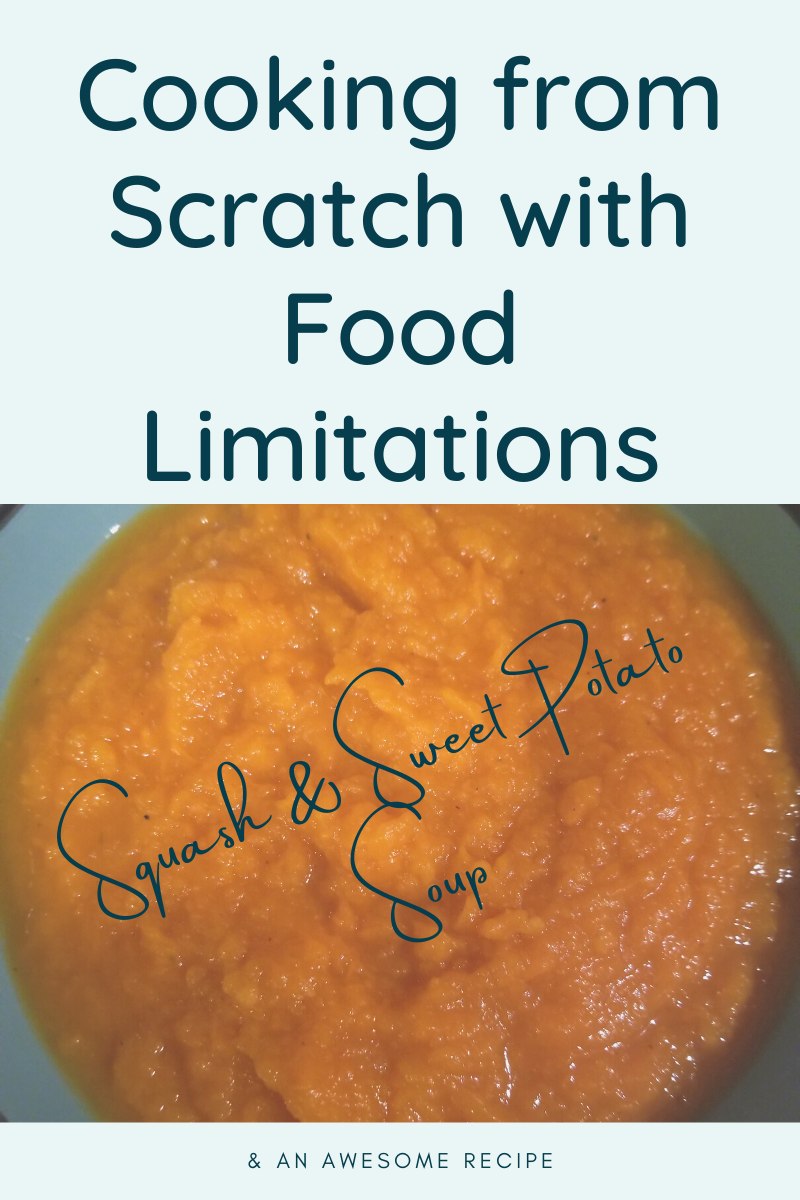 Do you have food sensitivities to avoid? If you have certain foods or many foods that you can't eat it can be hard to find things you CAN eat and you might feel limited to bland or boring meals.
You might even think it's going to be hard to cook from scratch with these limits, but actually the opposite is true.
When you make recipes completely from scratch you get to choose what goes in them.
You can choose to not use foods you can't eat
and still get amazing taste and flavor.
I have a friend with several food sensitivities and on top of that she was 8 months pregnant when I wanted to go visit her. I offered to bring something for lunch, but she thought it would be too difficult. CHALLENGE ACCEPTED 🤣🤣 I felt like I was on a cooking show where they challenge you to make a tasty meal with limited ingredients.
We chatted about what she could eat for a while and then settled on butternut squash soup as the recipe of choice. She could have sweet potatoes as well. I sent her a photo of the base recipe so she could veto any ingredients…. Onions, leeks, and celery were out. Garlic in limited amounts. I needed broth, but all my premade broth in the freezer had onion and garlic in it. So I went through a list of all the vegetables I had available in the house that I could make a veggie broth out of, followed by herbs (fresh) and spices I had on hand. No tomatoes, no turmeric due to the pregnancy. She could have butter or coconut oil.
Process
I cut the butternut squash in half lengthwise and removed the seeds, placing it cut side down on a baking sheet. I cut a large sweet potato in half the short way and placed cut side down (on end) on the same sheet and stabbed the top a couple time with a fork for ventilation. Baked at 350º F in oven for about an hour.
I made a small batch of veggie broth while the squash and sweet potato were in the oven. I would have made bone broth but I just didn't have chicken or beef bones in the house to make it.
(These ingredients can be added to chicken or beef bones to make bone broth as well.)
---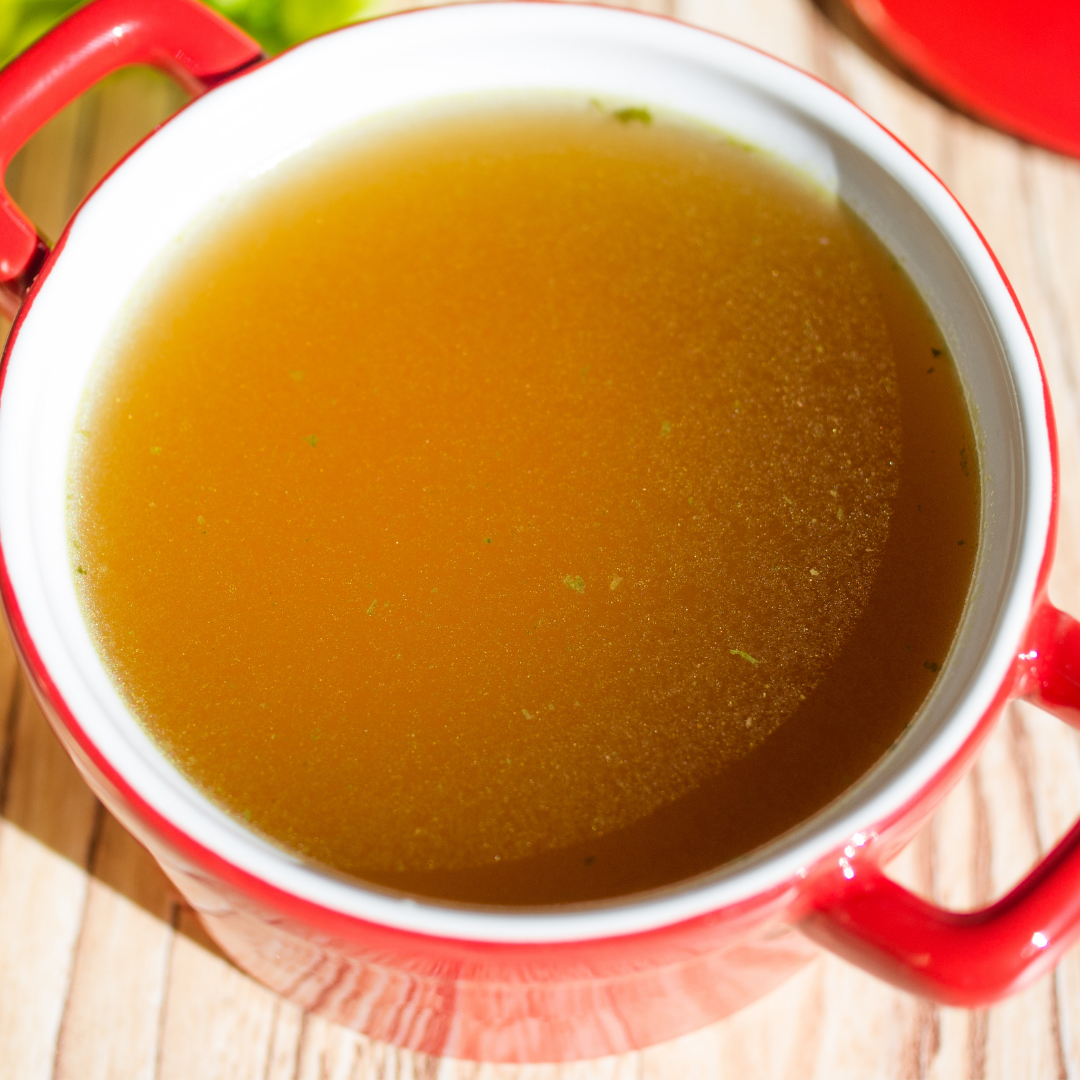 Ingredients:
3 large carrots (peeled if store bought) chunked
1 Tbls sweet red pepper diced
1 Tbls habanada pepper diced (sweet version of habanero)
3 cloves of garlic crushed
1-2 Tbls butter (or coconut oil)
Roughly ½ cup of shredded zucchini
Instructions:
✦ Peel and chunk the carrots, lay peeled garlic on a hard surface and lay the wide flat part of the knife over them and press down with the heel of your hand to crush, the rest of the veggies were in my freezer so I just thawed and they were already cut as indicated.
✦

Melt butter in a large saucepan and add the first 5 ingredients and saute for a few minutes.
✦

Sprinkle, with salt and pepper.
✦

Add the remaining ingredients and bring to a boil, stirring occasionally. Then reduce heat to keep at a simmer for 30-60 minutes.
✦

Strain and discard vegetables and spices. Taste the broth and add salt or pepper as desired.
---
When the squash and potato were done I let them cool a bit till I could touch them. I scooped the squash into a large bowl, added a small amount of butter- maybe 2 T as it was a large squash, and beat with my mixer till creamy like mashed potatoes.
I scooped the sweet potato out into another bowl and just mashed it with a fork.
---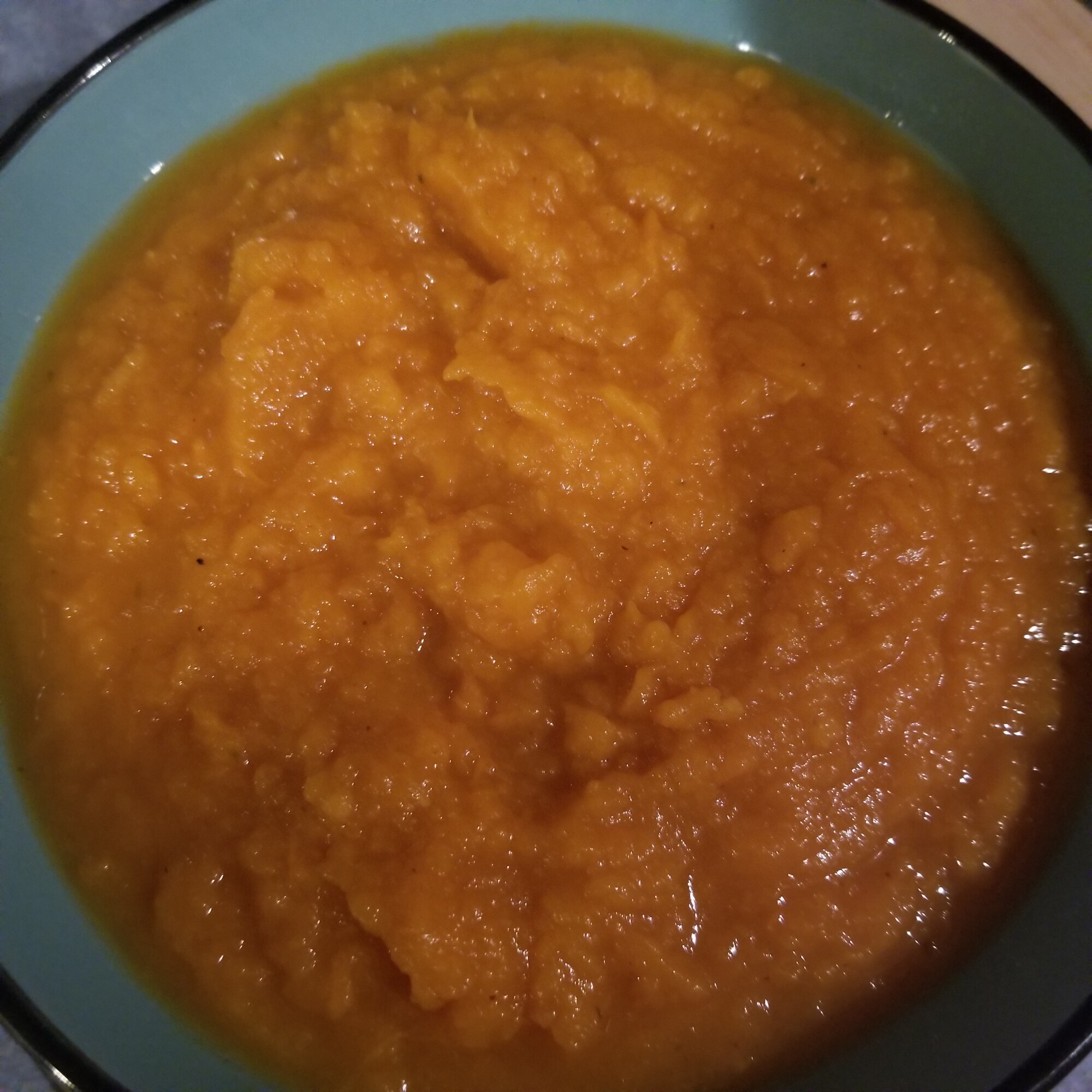 Squash and Sweet Potato Soup
Ingredients:
1 large butternut squash roasted and mashed
1 large sweet potato roasted and mashed
1 Tbls fresh ginger minced
1 Tbls cultured (unsalted) butter (or coconut oil)
1 small garlic clove crushed and minced
2-4 cups of veggie broth (depending on the thickness of the squash)
Salt and pepper to taste.
Instructions:
✦

Bake the squash and sweet potato at 350º F in oven for about an hour.
✦

Scoop from the skins and mash.
✦

In a large pot, melt the butter over medium heat and saute the ginger for 1-2 minutes, then add the garlic and coriander for 1 more minute.
✦

Add the sweet potato, squash and veggie broth. Use an immersion blender (or small batches in a blender) to puree the mixture.
✦

Heat through and season with salt and pepper to taste.
---
The soup turned out amazing and I had a wonderful lunch with my friend.
Have you made up a recipe? How did it turn out?